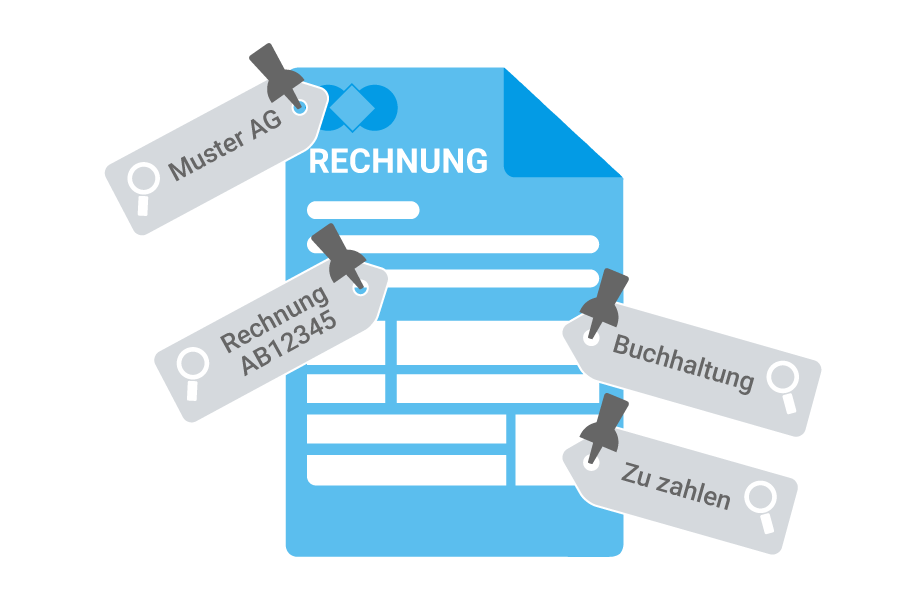 Customised classification templates enable automatic recognition, assignment and archiving of documents. Incoming documents are automatically assigned according to specified attributes and are archived in a dark process without requiring user interaction. This is made possible by the intelligent ecoDMS template designer. The template designer is a permanent component of the archiving solution. A classification template automatically recognises, correctly sorts and assigns permissions to files.
Classification templates can speed up and simplify archiving processes immensely. The design of form templates has many advantages.
The content of specific zones in a single or multi-page document can be automatically used for classification. ecoDMS, for example, recognises the invoice number, the date, the invoice total or the matching target folder and populates the classification dialogue box with the recognised values. To do so, the user needs to define each zone in a master document. For documents with a different number of pages, the target page can be specified (Example: The invoice total is always on the last page).
If a document matching the template enters the archive, the template designer automatically searches for the matching classification template and executes the configured processes.
Screenshots of the Template Designer and the Recognition
Function available for Windows, Ubuntu, Debian, MacOSThe Free4Three edition can save 1 classification template.