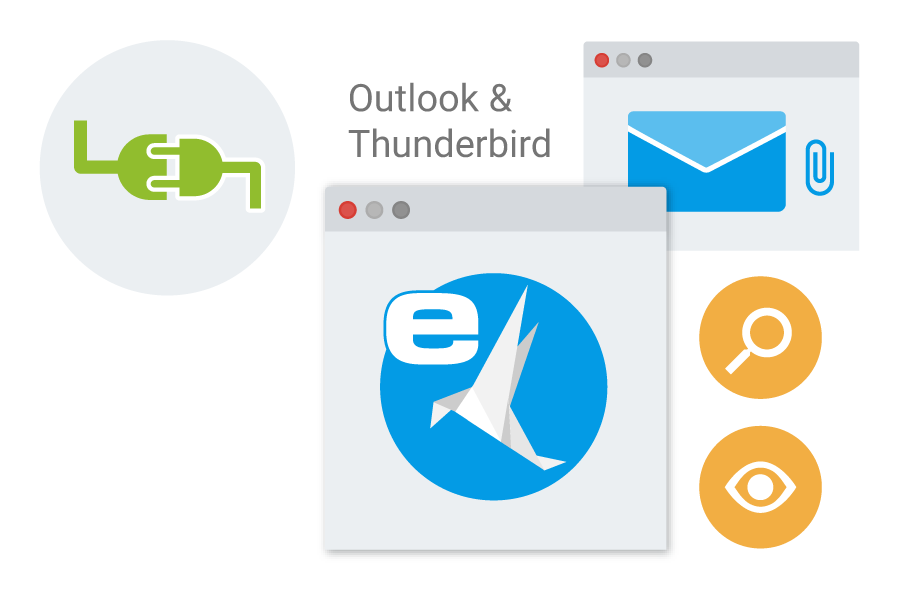 With ecoDMS Archive you can archive and quickly retrieve your emails and their attachments with a mouse-click directly from your email client.
Outlook & Thunderbird connection
The full version contains an Outlook plugin (MS Office plugin) and a Thunderbird add-on. Both allow direct email archiving from the listed applications via mouse-click. ecoDMS saves the emails in the standard mail format EML. Users with a permission can access this file through the version management function in the ecoDMS client. In addition, the actual message is stored in the long-term archiving format PDF/A. The PDF/A can be retrieved and opened from the table in the document archive. Moreover, the PDF/A file of the email is displayed in the preview window of the archive.
Email attachments
The email attachments are stored as a direct link to the PDF/A. The advantage for users is that an email and its attached files can be displayed and opened in sequence in the ecoDMS Archive table.
Automatic full-text indexing
During the archiving process, ecoDMS Archive executes automatic full-text recognition. This allows the quick retrieval of email texts and readable attachments via the full-text search.
MS Office plugin incl. Outlook: Windows (demo & full version)
Thunderbird addon: Windows, Ubuntu, Debian, MacOS (demo & full version)