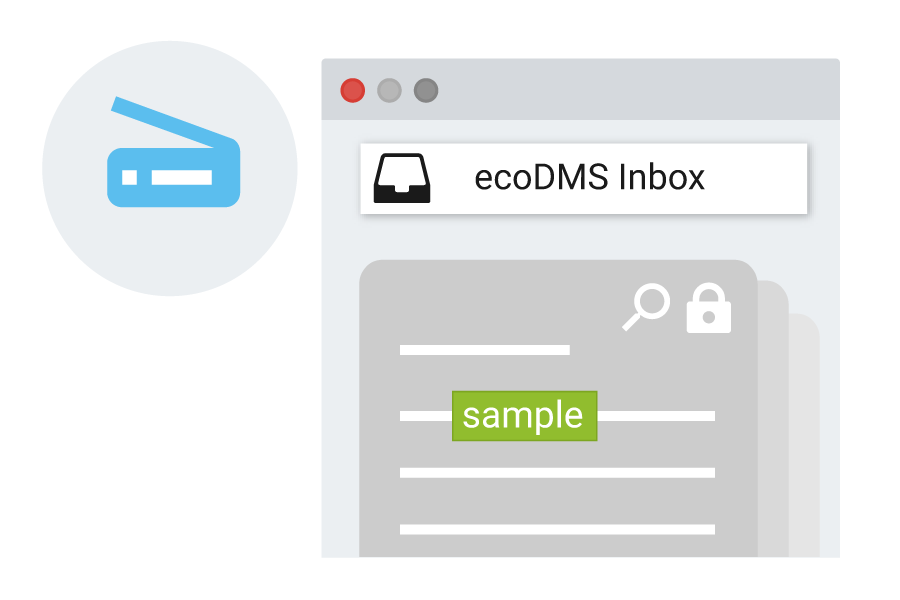 Scan your inbox and securely archive it in digital form in ecoDMS Archive.
Inbox in ecoDMS Archive client
Immediately after the scanning process, you can retrieve the documents on the Inbox tab in the ecoDMS Archive client. On the tab there are several functions available to process your emails, for example, rotate, delete, move. All scanned invoices, agreements, letters, etc. can be transferred immediately to the document archive for revision-secure archiving via the ecoDMS Archive Inbox.
Overview of All Available Scan Files
One click gives you an overview of the documents available to you in the inbox. Scanned documents are displayed here in a list preview. Apart from the document preview, the overview also displays the number of pages in each file. There is also an option to remove documents that are not required (this is possible because the inbox is a preliminary step and not the final archive).
Intelligent classification
The classification dialogue box of the archiving solution is there to store the scanned inbox in the appropriate folder and to assign further classification information and distribute the documents to the responsible staff. No more time is lost with arduous copying and filing work. Your document is quickly saved to the correct location. Classification and archiving can either be performed manually by the user, or automatically via the intelligent template designer in ecoDMS Archive.
Automatic full-text recognition
During the archiving process, background full-text indexing (OCR) is carried out on the readable texts and data. This allows you to search for your documents just like googling.
Scanning via network folder or TWAIN
You can either perform the scanning process via the ecoDMS Archive scaninput folder or the TWAIN/WIA/SANE interface. The scaninput folder is configured automatically with the ecoDMS server. It allows scanning within the network. Moreover, it is possible to assign specific configurations and permissions for this folder. You can also create more scaninput folders with different configurations, if necessary.
Scanning PDF and TIFF files
The inbox can receive PDF and TIFF files, whereby incoming TIFF files are automatically converted to PDF files in a background process and are then displayed as PDF files.
Screenshots of Inbox
Inbox function available for Windows, Ubuntu, Debian, MacOS
You can only create several scaninput folders with a full version of ecoDMS Archive.