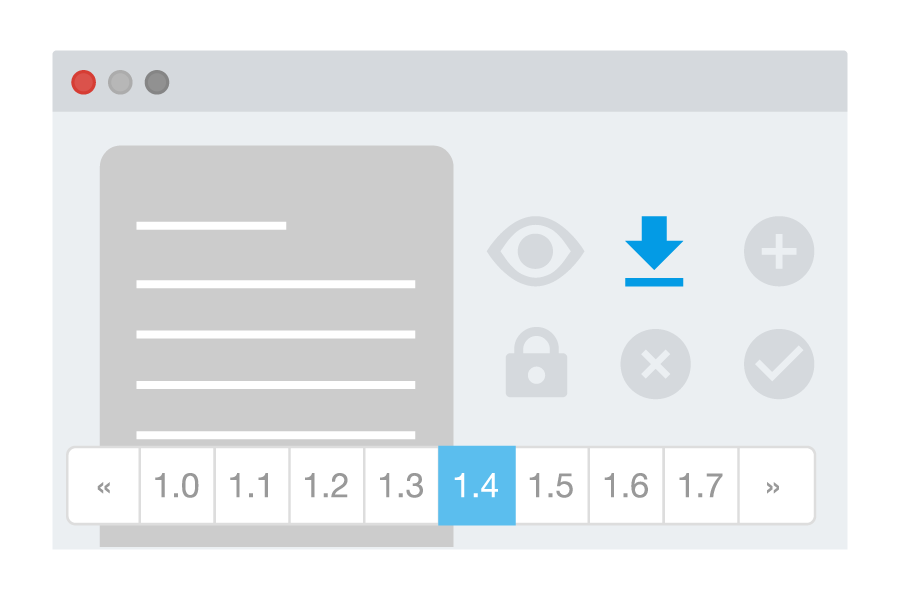 Version control allows you to archive any number of document versions in ecoDMS. Each new version is archived as a new document with an incremented revision number. As an option, a comment can be added to each function.
Original & PDF/A for Long-Term Archiving
Original files and any available PDF/A files are stored in version control. The PDF/A files are automatically created when archiving PDF, TIFF, JPG and PNG files. After successful conversion, users can access the original and the searchable PDF/A through version control.
Connection with Other ecoDMS Features
In combination with the Office plugins, version management enables further processing of Office files (such as Word, Excel, ...) Furthermore, version management is directly linked to the PDF editor in ecoDMS. This means that the original version is retained, and any changes are traceable through the individual revisions.
Check-in and Check-out
The check-in and check-out procedure locks a versioned document for other users. When a document is locked, other users can continue to access the versions but cannot save any new versions.
Optimum Version Management and Use
Version management offers various features that enable optimum use of the stored files. Among these are:
Create first version
Add new version
Save comments for the version
Open versions (PDF/A and original file)
Export versions (PDF/A and original file)
Send email
Finalise version to prevent further editing
Check-in and check-out
Screenshots of Version Management
Functions available for Windows, Ubuntu, Debian, MacOS