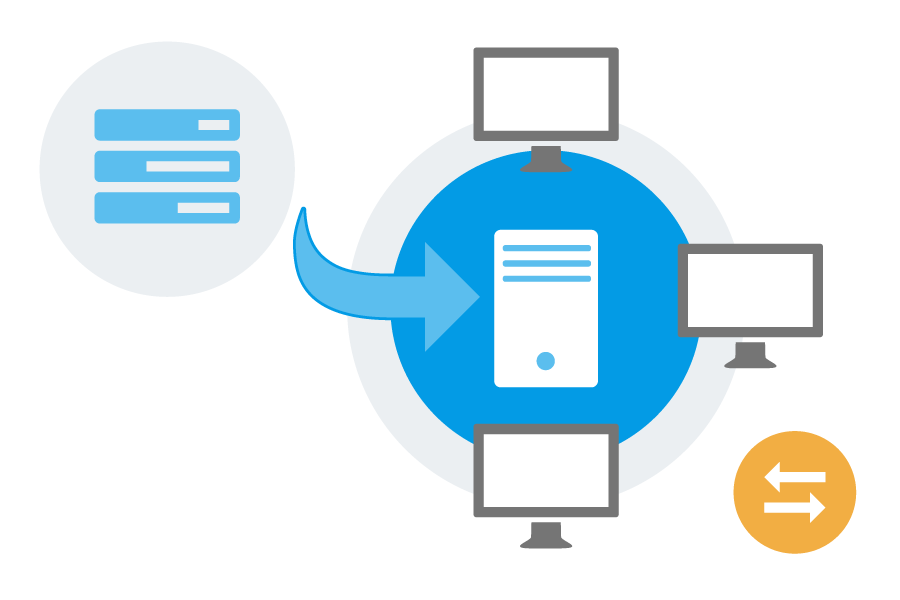 ecoDMS is a client-server system. To start, install all necessary ecoDMS components. The basic system elements are ecoDMS Server, ecoDMS Client including Inbox and Connection Manager, and the virtual PDF/A Printer. As an option, there are various additional components for email clients and Office applications.
As a client-server system, ecoDMS Server forms the base of the entire system. The postgreSQL database and containers for storing all data and information are also part of the server installation. The services available for the ecoDMS API REST service and web service (Web Client) are also contained in the server. The server is not a piece of hardware, but a software component.
One installation of ecoDMS Server is installed on a central computer, a server hardware or an NAS.
You can then install ecoDMS Client and additional components on any number of other supported devices.
The system can be installed as a single-seat solution (server, client and additional functions on one computer).
file_download Download
Default settings for business customers and private individuals
When first installing ecoDMS Archive under Windows, business customers and private individuals can automatically install default settings and use the software immediately. The default configuration contains example settings. Of course, these settings can be modified and/or executed manually. The default configuration does not include any documents. The configuration does contain a first selection of available document types and classification attributes. Customers who wish to install the default settings at a later date can download the necessary backup file in the download area of the ecoDMS website.
industry solutions