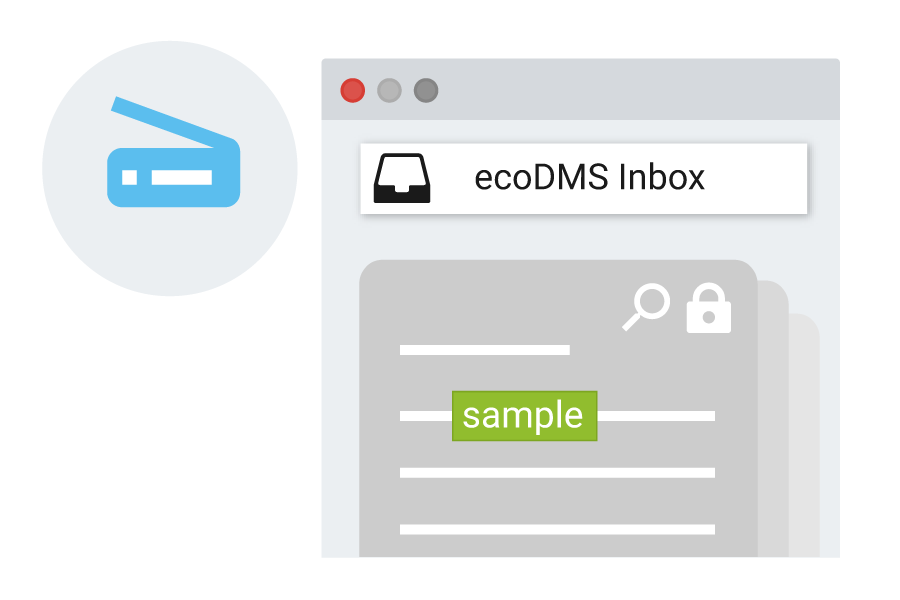 After you have setup ecoDMS, you can start archiving your documents. ecoDMS offers several options for saving documents.
Archiving via desktop client (drag & drop and function call)
Archiving via Web Client through an internet browser from your PC, laptop, tablet or smart phone (drag & drop and function call)
Scanning and archiving (inbox) documents via TWAIN/WIA/SANE or scaninput folder
Archiving via side panel
Archiving documents via virtual PDF/A printer
Archiving files via plugins and addons
Scan Process
To archive your paper documents, you need a scanner and the ecoDMS inbox.
Configure your scanner. We recommend you use the scaninput folder on the ecoDMS Server. Alternatively, you can also scan your documents via the TWAIN/WIA/SANE interface. The device must have PDF and/or TIFF as scan formats. It is best to scan in the documents in black and white (black-white= 1-bit colour depth) or in shades of grey with 200-300 DPI.
In order to scan a whole document batch, we recommend you use ecoDMS separator pages. Place such a separator page behind each document before you scan it. ecoDMS then automatically separates the documents into individual files. You can download free separator pages in the download area at ecodms.de.
If after scanning the dark process (automatic classification and archiving) is not enabled, all scanned documents are retrieved one after the other via the ecoDMS inbox and prepared for archiving. As soon as the files have been classified and archived, authorised users can access them in ecoDMS Archive.
Via the classification you can assign the virtual folder in ecoDMS, the document type, the status, the permissions and meta data for each document.You can use this information and the full-text search to retrieve documents and save them together with further details. The classification can be done either manually by the user or automatically through classification templates.
Now you can archive the file. All archived text documents automatically undergo background full-text indexing and are available in ecoDMS Archive in the original scan format and also in the long-term archiving format PDF/A.
Archive & Classify Digital Files
You can save virtually any file format in ecoDMS Archive. You can drag and drop documents, which are already saved on your computer, into the archiveDie Volltexterkennung führt ecoDMS bei lesbaren Dateien im Hintergrund automatisch aus.
ecoDMS carries out full-text recognition automatically in the background for readable files.
Depending on the document, you can classify either manually or automatically with the template designer. As an option, you can also work with mass classification. This allows you to classify any number of documents simultaneously with the same information.
With the right classification attributes, you can assign the document type, the customer folder, the date, the responsibilities and much more information to the document, all of which can be edited at any time. Apart from the full text search, you can use these attributes to create exact filters to search for documents and to access the required data and information quickly.