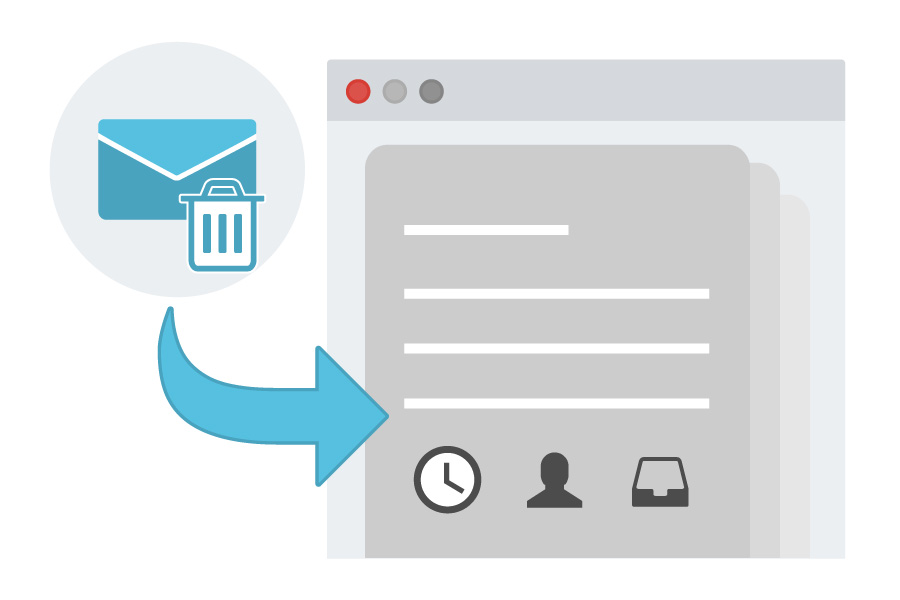 ecoMAILZ enables the erasure of emails according to the EU's General Data Protection Regulation (GDPR). Emails that are no longer required can be erased from the archive according to the two-man rule, and are replaced by an erase log.
ecoMAILZ is used for the long-term, legally compliant storage of emails. Therefore, emails cannot be erased after final archiving, i.e. following the end of the review deadline.
However, in individual cases messages need to be erased. An example for this is the General Data Protection Regulation (GDPR): A customer requests the erasure of his personal information. To carry out this request, ecoMAILZ has an "Erase" function which follows the "Two-Man Rule". Authorised users may send erase requests. Following the entry of a meaningful justification for the erasure, the request is forwarded accordingly. Users with the permission to reply to such requests can decide whether to erase the message or to retain the message in the archive.
When approving an erase request, the authorised user can enter a meaningful comment. Once this is saved, the actual content of the message is removed from the archive and is replaced with an erase flag. The erase flag contains the users involved in the erasure process as well as the justification and the date. This makes the erasure process transparent at any time.
If an erase request is refused, the authorised user can also enter a meaningful comment. Then the message is returned to its original final archiving status.
Treat the "Erase" function with utmost care. Erasing emails should be executed confidentially and with due consideration. We recommend this function to be enabled only for users with managerial authority and who have the permission to view all emails in ecoMAILZ.
From 2 users onwards, we strongly recommend the application of the two-man rule. The two-man rule ensures that a user cannot erase his or her own emails from the archive. It ensures that important decisions cannot be made by an individual person and prevents critical actions from being undertaken by a single person. The aim is to reduce the risk of errors and abuse. In the case of erase requests, the two-man rule ensures that an erase request is not approved by the same person who made the request. The two-man rule is a default setting.