Since the beginning of June it has been official: In autumn 2016 the new major release of ecoDMS version 16.XX (eleanor) will be released. There is a lot of expectation and excitement in the run up to this version. Today the manufacturer has revealed the first details on the software. ecoDMS users can look forward to a brand new design and the merger of ecoDMS and ecoICE clients.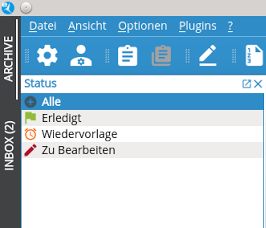 A first image of the new version shows a user interface that combines the archive with the mail inbox. Fresh colours, new icons and a flat, modern "material design" give a new radiance to ecoDMS.
The independent clients ecoDMS and ecoICE will be merged with the next major release to increase user-friendliness. The two interfaces will be on separate tabs, which makes it easy and convenient for users to switch between the two.
The ecoDMS permissions module ensures secure access and the correct permission for the software functions that should be available to a specified user. The administrator can specify which functions are available to a user. Thus a user can, for example, have total access, only view the mail inbox, or may only be allowed to access the archive.
The merger of both ecoDMS components will further optimise the archiving steps and moreover enable the provision of new ecoDMS functions. What those functions are will not be revealed yet. However, one thing is certain: From the technical, functional and design point of view the new major release will again be a first class archiving system.
Over the coming weeks more secrets from the treasure trove of ecoDMS GmbH will be revealed.
For this and more information, visit www.ecodms.de.