Your advantages as a registered reseller
Getting Started Training
In our training session (approx. 45 minutes) you will learn important fundamentals about how to sell our software.
Portal & Marketing
The reseller portal contains sales and marketing aids, the ecoDMS reseller logo to embed in your website, and various advertising materials.
ecoDMS License
To test and present our software, you will receive a license for the latest ecoDMS full version with a 24-month update period.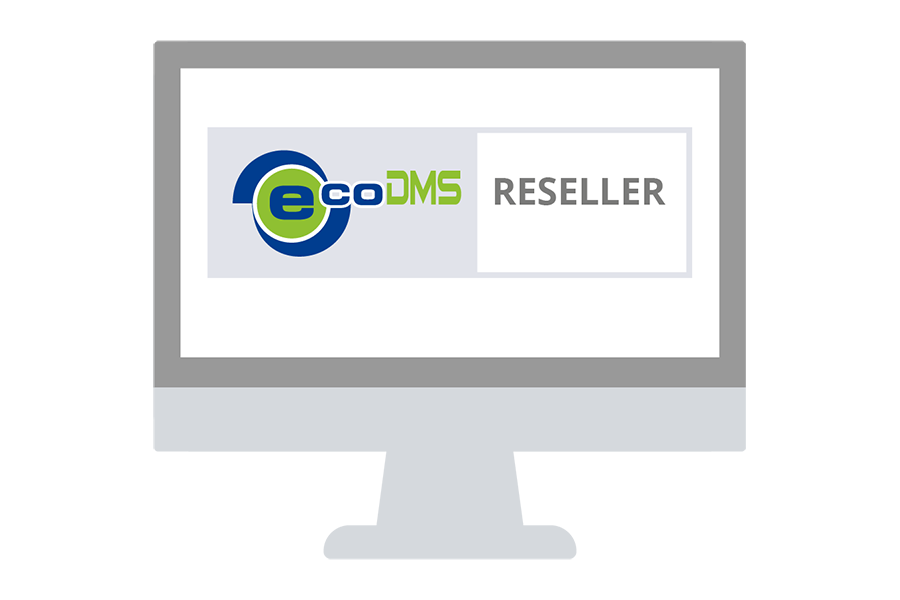 Support Package
To clarify initial, technical questions, you will receive 1 support unit that you can use for direct contact with our technicians.
Wholesale Prices
With your own access to the Reseller Portal you can purchase our products at wholesale prices in the associated Reseller Online Shop.
Area Search
To enable our customers to find you, we will include your company in the official ecoDMS reseller area search after you have completed the Getting Started training
Terms and Conditions of Participation and Prices
Become a registered ecoDMS reseller in just a few steps:
Use our registration for to register as ecoDMS reseller.
You will need a valid trading license (certificate of registration). This should not be older than 24 months.
Our Reseller team verifies your registration. Once the checks are successfully completed, we will send you a link and your personal access to our reseller portal and the associated reseller online shop.
Log in to our website to purchase your reseller package with the Getting Started training of your choice at a net price of € 90.76.
Following your purchase, you will receive a license for ecoDMS, one support unit, and the confirmation of your Getting Started webinar participation on the date of your choice.\n

After just a few days, the wholesale prices will be available for you in the online shop.
In the reseller portal you will find the reseller logo, advertising banners, product-related texts, screen shots and product logos, and more. A backlink to www.ecodms.de and detailed product information on your website will visually promote our collaboration to your customers.
Following your participation in the Getting Started training, we will publish your company name with full address in our area search (Reseller category).
Your personal ecoDMS GmbH reseller coordinator will help you with any further sales-related questions you may have.
Reseller Package
The package price is a one-time payable € 90.76 net plus VAT per company and includes:
Reseller Getting Started training (online)
ecoDMS Full Version (1 concurrent connection)
"Quick" support package
Wholesale prices in the online shop
Portal access
Entry in area search
Official ecoDMS reseller logo